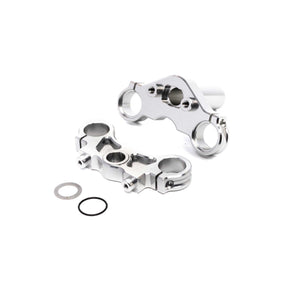 Overview
Take your Promoto-MX to the next level by removing the stock injected front and rear triple clamps and installing the optional aluminum front and rear triple clamps to improved durability, aesthetics, trueness.
The aluminum triple clamps set brings a significant boost in durability to your Promoto-MX. Experience enhanced strength and resilience, ensuring that your RC motorcycle can handle the rigors of intense rides and challenging terrains.
Features
Precision CNC Machined from 6061-T6 Aluminum
Anodized in brilliant (insert color) for increased durability and aesthetics.
Upper and Lower triple clamps included!
Direct fit option part for the Promoto-MX requiring no other parts.