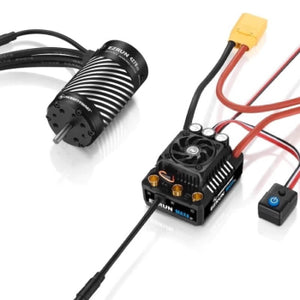 Product Description
Features
The ESC uses a special process, coupled with an innovative waterproof design, to increase waterproofing and dust-proofing performance in different climates. It is easy to deal with the harsh conditions containing sediment, ice, snow, and water accumulation.
Built-in ultra-powerful switch mode BEC with a continuous current of 6A, an instant 15A, and support for 6V/7.4V/8.4V switching, supporting a wide range of powerful and high-voltage servos.
Equipped with the most advanced and safe electronic switches. The traditional mechanical switch protects and prevents dust, humid and other harsh environments, contact rust, and violent impact (such as flying slope landing) caused by the automatic closure of mechanical switches and other issues.
Support the 32-degree turbo timing setting. When used with the matching motor (such as EZRUN 4278SD), the maximum rpm can be increased by about 25%, easily winning your rival. Multiple protection functions: battery low voltage protection, ESC and motor overheat protection, signal loss protection, and current protection.
Support LED program card, LCD G2 program box, OTA programmer (Note: optional) to set the parameters of the ESC.
Real-time data logging to view various running data on the HW LINK app using the OTA Bluetooth module.
Supports the firmware upgrade of the ESC (The multi-function LCD G2 program box or OTA Programmer is needed to be purchased), so you can enjoy the latest functions.
ESC Specifications
Scale Vehicles: 1/8th 
Cont./Peak Current: 160A / 1050A
Motor Mode: Sensored and sensorless brushless motor
Input: 3-6S Lipo
Motor Limit: 4S Lipo: KV≤3000; 6S Lipo: KV≤2400 4278 size motor
BEC Output: 6V / 7.4V / 8.4V adjustable, continuous current 10A (Switch-mode)
Programming Port: shared with fan interface
Switch Mode: Electronic Switch
Capacitor protection: Yes
Waterproof: Yes
Size (L.W.H)mm: 60(L) x 48(W) x 40.5(H)mm
Weight (g): 192g
Input/Output: Input: XT90 Output: 6.5mm gold plug female)
Motor Specifications
Model: 4278SD
Pole: 4
KV(No-load): 2250KV
R. (Ω): 0.0048Ω
Current No-load(A): 5.0A
Motor D.&L(mm): 42mm / 78mm
Shaft D&L of the projecting part (mm): 5mm / 18.5mm
LiPo(S): 3-6S Lipo
Weight (g): 455g (no wire)
Application: 1/8 truck, crawler
Best match with: MAX 8 G2 ESC