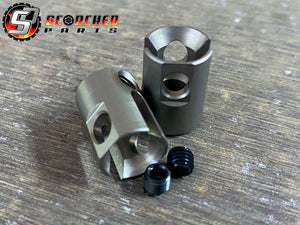 High quality hardened steel replacement drive cups for 8mm dog bone to 6mm shafts, as found on Scorched Parts spools.
Updated (Aug 2022) to have latest Finite Element Analysis developed shape, greatly improving strength and improved contact to shaft. 
Only suitable for 6mm diameter shafts (Generally only found on SCORCHED PARTS spools)
This item include 2 x parts
Please de-grease parts and assemble with high strength Loctite. Loctite 271 is recommended. 
Modifying your RC from stock condition can result in unexpected results. Operation of modified models must take this into account. Always follow the original manufacturers instructions. Whilst we build our parts to the highest standards we are able, like all rc parts, our parts cannot be guaranteed for performance, strength and durability in every situation or configuration. Do not use your RC in public areas. Do not use your RC where unexpected results could cause injury or damage to property. High Speed RC's require GREAT CARE and a responsible attitude to use safely.