Overlander's SD4 Pro Charger is our most compact Lithium and NiMH charger. This simple 50W AC charger is capable of charging at up to 4A. This charger is designed for the user with a smaller voltage range of Lithium and NiMH batteries who do not require a DC input.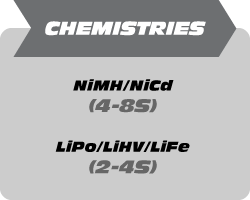 ---
Features
This charger allows the user to choose a charging current from the available options. These are: 0.5A / 1A / 1.5A / 2A / 2.5A / 3A / 3.5A / 4A. This allows for a wide range of batteries to be charged on this charger at the most suitable charge rate.
This charger sports a built in JST-XH balance board. This means that when charging a lithium battery this charger will always balance charge. It will ensure that the voltage is 100% evenly distributed between each of the cells within the battery. This keeps the health of the batteries to a maximum and certifies the safety of the charging process. 
When charging NiMH batteries this smart little charger will show the live voltage status of the battery as it charges on the LED screen. With Lithium batteries the LED screen will display each individual cell reading one by one, this will be displayed as a percentage.
The SD4 Pro is equipped with 4mm gold connector sockets. This means that the standard 4mm gold charging leads will fit this charger simply without having to make any adaptations. This makes it easy to charge all your batteries with different connector types using leads that are easily available. 
---
Charging Process
This charger shows a blue flashing light whilst the options are being selected; this indicates that the charger is waiting for the battery to be connected. Once the battery is connected the LED light will change to a solid red, this allows the user to recognise that the battery is being charged. When the charging process is complete the light will show as solid green. This is a clear indication that the charging process is complete and the battery can now be disconnected.
---
All of Overlander's own-brand chargers are fully designed with the end user in mind. The simple but excessive capabilities that are offered are all programmed with the upmost care and fulfilment. Thus making them the most user friendly and easily navigational chargers there are!


---

   Find details of Overlander's 12-Month Warranty Policy here. 


  Need more information? Get in touch here.